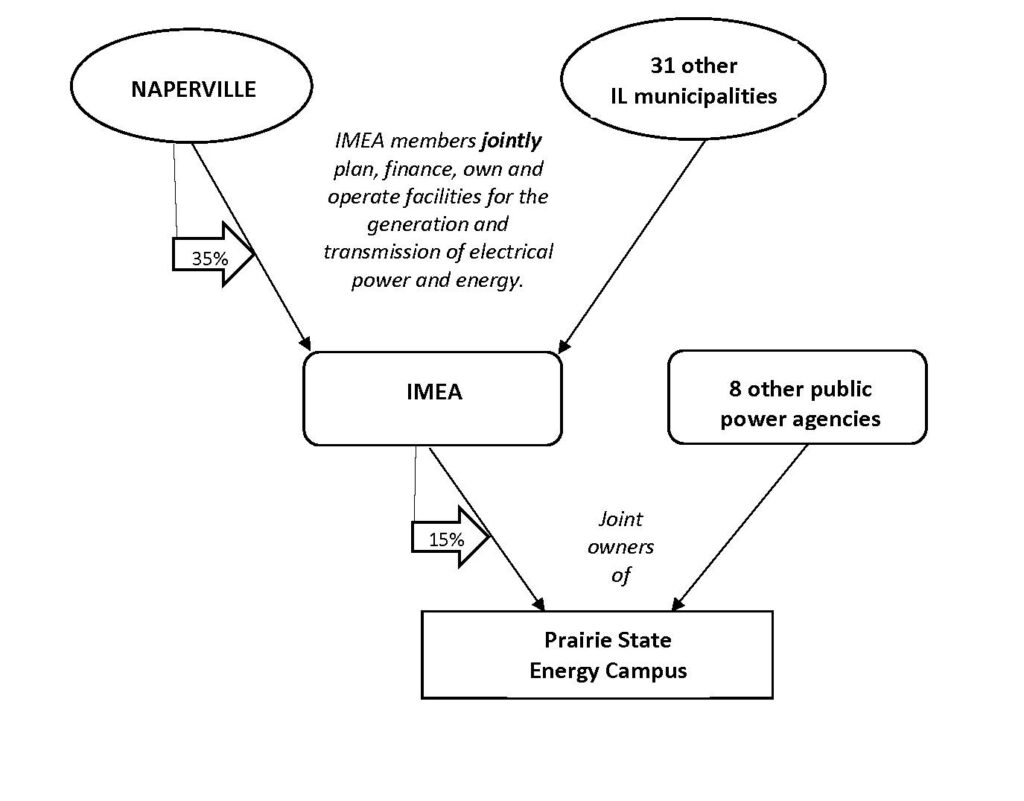 The City of Naperville owns the electric utility that serves Naperville, and it is a member of the Illinois Municipal Electric Agency (IMEA). Through IMEA, Naperville and 31 other members have acquired ownership shares in coal-fired power plants. IMEA's primary power supply resource is its ownership share of the coal-fired Prairie State Energy Campus (PSEC). Since Naperville consumes about 35% of the IMEA power supply, Naperville is responsible for 35% of the ongoing costs of that ownership, including operating and capital expenses.
Naperville and all other Illinois municipal and cooperative electric utilities are not regulated by the State of Illinois. These muni and coop utilities make their own decisions regarding rates, power supply, transmission, local distribution, and service to their customers.
Electric rates and oversight of the Naperville electric utility are the responsibility of the City of Naperville leaders, including the City Council. In Illinois, only the investor-owned utilities such as ComEd and Ameren-IL are covered by the ratemaking rules and regulations and the oversight of the Illinois Commerce Commission and other agencies..
Under Illinois law, IMEA is a "Joint Municipal Power Agency". IMEA is the legal entity by which its members "jointly plan, finance, own and operate, facilities for the generation and transmission of electrical power and energy".
Nearly 70% of the IMEA power supply comes from the ownership of coal-fired power plants. Per the IMEA 2021 annual report, PSEC provides 45% of the power and Trimble County KY coal-fired generators provide 23%.
Since 2011, IMEA has been the sole power supplier for Naperville under a "full requirements" contract with IMEA. This power supply contract expires in 2040, 2035 at the earliest with a 5-year contract termination notice required. The end of contract does not end the IMEA membership or joint ownership of the coal-fired generation assets.
PSEC is the largest coal-fired generator in Illinois. It is the largest direct emitter of greenhouse gases, co-pollutants, and coal-ash in Illinois, in the top 10 in the USA.
PSEC is owned by IMEA and 8 other membership organizations that serve municipal and cooperative electric utilities.
The Illinois Climate and Equitable Jobs Act (CEJA) will close other coal plants in Illinois by 2030. PSEC is exempted from 2030 closure and can stay open until 2045. By 2038, PSEC must shut down one of its two generators if it is unable to reduce its CO2 emissions by 45%.
For further information and details, please see our pdf file document "Naperville, IMEA, and PSEC: A One-Pager (and More)".